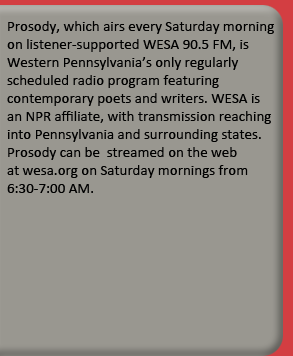 About Prosody:

Now in its twenty-second year, Prosody was founded by writer Mary Radford. Poet John Schulman shared co-hosting duties with Mary for several years. In its early years on the air, Prosody featured only local writers - but as the program grew in stature, writers of national and international note began appearing. Guests have included U.S. Poet Laureates, Pulitzer Prize winners, National Book Award writers, and MacArthur Grant recipients. These include Robert Pinsky, Marilyn Hacker, Eavan Boland, Gerald Stern, Michelle Cliff, Sonia Sanchez, Sandra Cisneros, John D'Agata, Barry Lopez, Jean Valentine, Eve Ensler, Chuck Kinder, Nikki Giovanni, Marilyn Chin, Alicia Ostriker, Sekou Sundiata, Yusef Komunyakaa, Alice Notley, Dorianne Laux, Lewis Nordan, Lynn Emanuel, and Ed Ochester.

Prosody's community partnerships include a Symposium on Women Writers of Color, funded by Pennsylvania Partners in the Arts and featuring the writers Toi Derricotte, Fiona Cheong, and Yona Harvey. This symposium included a roundtable discussion on issues of race and creativity. Local guests on Prosody are also showcased in print in Chapter&Verse, a feature of City Paper. WESA is grateful to the City Paper for their collaborative efforts.


Prosody Staff:



Jan Beatty is the host and producer of Prosody. Beatty is the author of four books of poetry: The Switching/Yard (2013), Red Sugar (2008), Boneshaker (2002) and Mad River (1995), all published by the University of Pittsburgh Press. She has received the Agnes Lynch Starrett and Pablo Neruda Poetry Prizes, among other honors. Prosody co-host and co-producer Ellen Wadey has worked with the show since 2001. Staffers Michelle Stoner and Lisa Alexander are the program's engineers and editors. Laurin B. Wolf is a poetry co-host for Prosody.